A unique French beard oil, a unique friendship
The french beard oil "Old Scents" is unique because it is the result of a unique friendship. In 2013, Stéphane Couty, founder of Lames & Tradition, met Alexandre Poupault, barber and creator of Radikal Hair Shop, on his barber stand at a tattoo convention in Toulouse. Their common interest for rock'n'roll, tattoos and custom culture quickly brought them together.
At that time, Lames & Tradition was just a concept in Stéphane's mind, but Alexandre immediately believed in this project and this approach to make professional and high quality products obviously made in France.
A year later, Radikal Hair Shop is one of the brand's first partners, becoming ambassador and the usual barber at the conventions in which Lames & Tradition still participates today. Their common passion for traditional barber trade, knowledge and product quality has led to a strong friendship between the two buddies.
After more than a year of testing and fine-tuning, Stéphane and Alexandre are proud to offer the "Old Scents" beard moisturizer oil, the symbol of a strong and lasting relationship between two enthusiasts!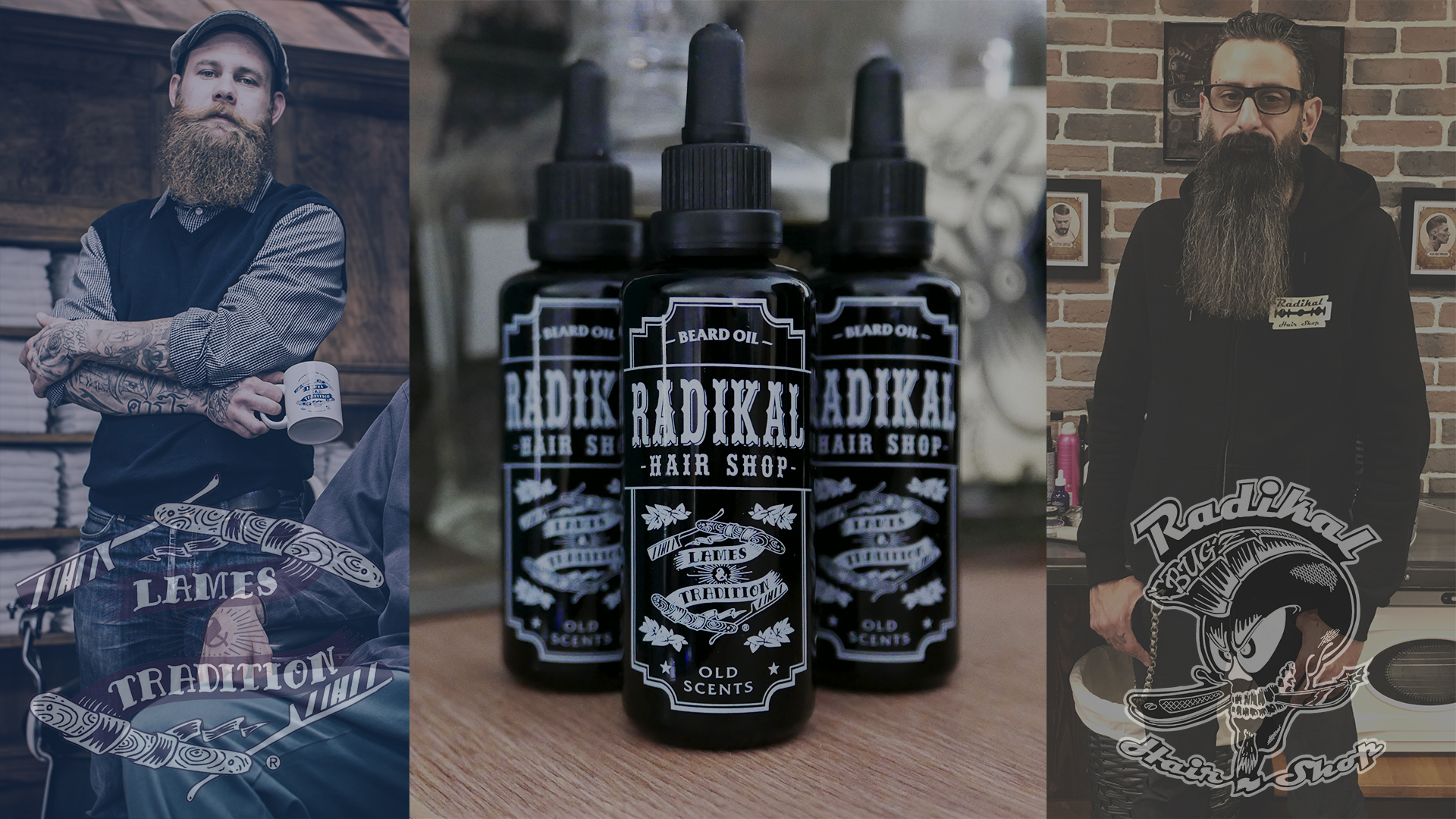 An authentic men's beard product
Like all our products, "Old Scents" beard oil is an authentic men's beard product. Indeed, its unique formula will give your beard everything it needs – the sweet almond oil with protective properties will soften and soften your skin, while the jojoba oil will moisturize and nourish your hair. The vitamin E contained in our beard oil has anti-oxidant properties, allowing you to nourish your beard without irritations of your skin, and protect it from everyday life (smoke, pollution, drying, etc.).
Its perfume with bourbon and Virginia tobacco is available on our men's cosmetics website, and in the Radikal shops in Vouneuil-sur-Vienne (86), Poitiers (86), Nantes (44) and very recently La Rochelle (17), which has just opened its doors. This scent is one of the favorites of our barbers and bearded testers, whose feedback is unanimous: they all approve. Do not hesitate to make yours on our social networks!
The ingredients of this beard oil
The ingredients for this beard oil are:
Prunus Amygdalus Dulcis Oil, Simmondsia Chinensis Seed Oil, Parfum, Limonene, Tocopheryl Acetate, Coumarin, Linalool, Eugenol, Citral